Relieve your neck pain and improve the mobility of your neck and spine with cervical adjustments
The neck is also referred to as the cervical spine, which begins at the base of the skull and contains seven small vertebrae. It is the most delicate part of the spine, housing the spinal cord, supporting the head, and regulating all blood flow to the brain. The neck can be very susceptible to injury because any activities that involve repetitive movement, a fall, car accident, or even sitting for a long period of time can affect cervical biomechanics. Neck pain can be caused by many different things and can impede your day to day activities. Neck pain that develops slowly over the years and occurs following certain activities is frequently caused by cervical foraminal stenosis.
Chiropractic care for neck pain is a very effective solution. Before a chiropractor treats you, they will perform a thorough exam to determine and diagnose the specific cause of your pain. Once they diagnose the specific disorder causing your pain, they will create a customized care plan with your treatment that will lead you on the path to being pain-free.
Read More About Neck Pain & Treatments Below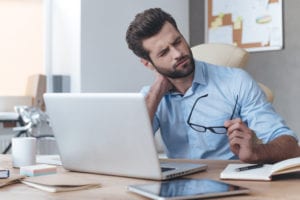 These days so many people are always looking at their phones or computer screens. It's not surprising that the CDC and Prevention magazine both say about 20 percent of the population complain about having a stiff or painful neck in the last 90 days. Chiropractors will tell you that you usually get a stiff neck…
Read More

→
Don't Let Neck Pain Keep You From Living
Goodbye Neck Pain. Hello Pain Relief!
Crist Chiropractic of Cool Springs Helps You Live Better Now!